We Can't Keep from Singing Along
A beloved element of Gil's Hootenanny is the Hootenanny Band. The Band starts off the show with a procession into the hall as they sing, play, and encourage the audience to join in the music. An ensemble of musicians for whom equity and social justice are central to their songwriting and performance style, the Hootenanny Band is made up of singer-songwriters, multi-instrumentalists and vocalists who captivate and inspire the audience with their talent and energy. They are Mark Evenchick, Elage Mbaye, Arthur McGregor, Debbie Rubin, and Carmel Whittle.
Mark Evenchick's love of music started when he was 13 and learned three chords on his sister's guitar. Those few chords led Mark on a decades-long musical voyage that includes performing, songwriting & recording. Mark specializes in story-based songs that are positive and upbeat and lend themselves to audience participation. He has two albums to his credit, as well as an EP of original sing-along songs. Mark is a two-time winner of the Gil's Hootenanny songwriting contest.
Elage Mbaye came to Canada with his family from Senegal in early 1986. When he was eight, he started playing his country's traditional percussion instruments called "sabaars" as well as the "tama" (talking drum). His first solo album "Askane" shared the legacy of his maternal grandmother. Elage mixes the traditional music of his homeland with modern music for a sensational result inspired by his African roots.
Arthur McGregor founded and led the Ottawa Folklore Centre from 1976 to 2015. He is an experienced, versatile performer who has played on stage since he was 12 years old. Besides being a Rathskallion, and Moore & McGregor (CD 2016: Dream with Me) he leads community singing, writes songs about topical issues and arranges unusual versions of national anthems. For 19 years, Arthur opened the Ottawa Folk Festival playing his ragtime version of O Canada. He is the recipient of the Helen Verger Award (municipal), the Estelle Klein Award (provincial) and the Canadian Folk Music Award's 'Unsung Hero' award (national) for his work in folk music across Canada. Arthur is the Canadian Vice-President of Local 1000, the union representing travelling musicians in both the United States and Canada.
Debbie Rubin is a vocalist and banjo player who has been a key Gil's Hootenanny organizer for many years. She is part of the all- female group Local Colour, The Ottawa Simcha Band and can often be found in community singing like Sing n'Jam and the No Border's Choir. In her free time, she sings for seniors in the Keep on Singing program. Debbie is also a visual artist.
Carmel Whittle, stand up snare, percussion, vocals: Carmel is an Irish and Mik'maq visual artist, musician, songwriter & filmmaker who hails from Newfoundland. She is a community outreach activist and program manager for Thunderbird Sisters Collective. Carmel is also a community organizer and coordinator of the 'No Borders Art Festival'.
This year's Hootenanny will be held on Sunday, May 1st at 2pm in Clark Hall at the RA Centre, 2451 Riverside Drive. Staffed by UNIFOR members, the RA Centre is accessible, has loads of parking and is well serviced by OC Transpo.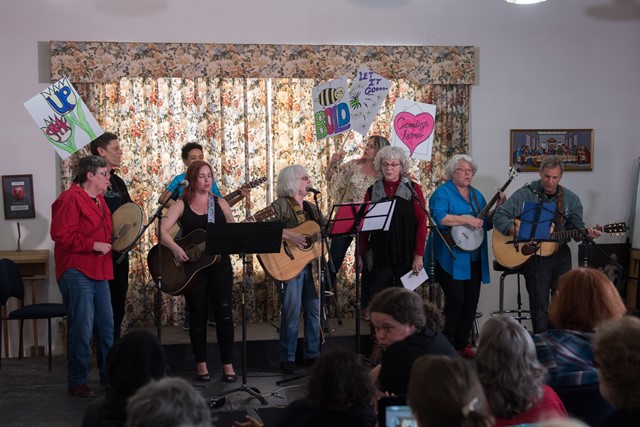 Tickets ($10, kids free) are now available online and can also be purchased (cash only) at Octopus Books, 116 Third Avenue.
Vaccinations and masking are encouraged at this year's Gil's Hootenanny and Clark Hall will be occupied to less than capacity.