Glebe Community Centre, 175 Third Ave.
Tickets $10 (15 and under free) available in January
Songs of Protest, Songs of Hope
A May Day Sing-Along Event
Featuring Sneezy Waters, Evalyn Parry and the Hootenanny Band (Chris White, Erin Saoirse Adair, Lyndall Montgomery, Elage Mbaye)
Song writing contest
Refreshments
More intimate setup
Improved sound system
Hosted by Chris White (CKCU FM) and Cathy Remus (CUPE)
Gil's Hootenanny is a community sing-along event that takes place each year on May 1st, May Day, the international workers' holiday. Musicians from a range of backgrounds take turns leading the audience to sing songs of protest and songs of hope.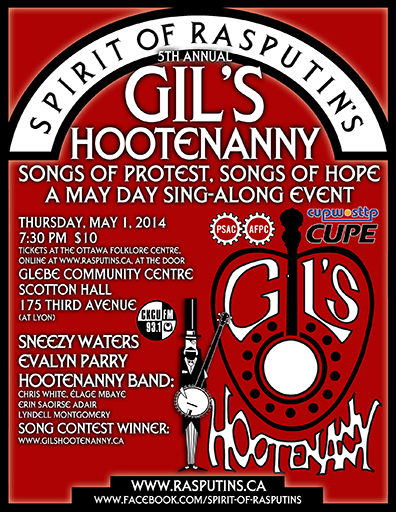 Gil's Hootenanny was inspired by Gil Levine (1924-2009), the founding Director of Research at the Canadian Union of Public Employees (CUPE) and a great lover of folk music. Gil's vision of a better world included bringing people together to experience the collective power of song and to celebrate the stories, struggles and victories of working people. Gil saw May Day as an important time for working people around the world to gather together, speak up and sing out.
First presented in 2010, the annual hootenanny has seen increasingly larger audiences coming out to sing each year, with more than 300 expected this year. The organizers and sponsors of Gil's Hootenanny would like to see similar events taking place on May Day across the country. For information and advice on how to organize a May Day sing-along event in your community, contact Chris White, cdwhite@sympatico.ca, 613-327-9621.
Gil's Hootenanny thanks the Spirit of Rasputin's Arts Society, a volunteer-run not-for-profit organization that provides a home for Ottawa's folk music community. Activities include weekly folk jams and "open mic" evenings, concerts featuring local and touring musicians, folk music webcasts, talent development workshops, and themed music events such as Song-Along, Chrysalis, Rasputin's Beard and Gil's Hootenanny. For more information, see www.rasputins.ca.
For information and interviews with organizers and musicians, please contact:
Chris White cdwhite@sympatico.ca 613-327-9621