Gil's Hootenanny to bring people together in song on May 1st. Juno-nominated singer-songwriter Maria Dunn to join Ottawa artists in leading "Songs of Protest, Songs of Hope."
April 25 (Ottawa) – An Ottawa group is determined to bring the word "hootenanny" back into the common lexicon. Juno-nominated Maria Dunn feels so strongly about the power of singing together that she's flying half way across the country to join Gil's Hootenanny on May Day.
"There's nothing quite so powerful – and fun – as a group of people singing together, especially when those songs express love, joy, empathy and a strong desire to make the world a better, more compassionate, more just place," says the Edmonton-based songwriter.
Gil's Hootenanny was first organized as a tribute to local activist and trade unionist Gil Levine, who passed away in 2009. Every year since, "Songs of Protest, Songs of Hope" has honoured his memory.
"My father loved hootenannies, folk music and May Day," remarks Tamara Levine, one of the hootenanny organizers. "I can't think of a better way to celebrate his contributions to Ottawa and its folk community. Last year's event had more than 200 voices raised in song."
This year, other artists include Three Little Birds, Kristine St-Pierre, Mighty Popo, Terry Tufts and the Shout Sister choir. The Hootenanny is hosted by the Spirit of Rasputin's Arts Society. All funds raised once the artists and expenses are paid will go to Spirit of Rasputin's programming throughout the year.
Gil's Hootenanny will take place on Wednesday, May 1st at 7:30pm at the Glebe Community Centre, 175 Third Ave.
Tickets are $10 each (kids 16 and under are free) and are available at the Ottawa Folklore Centre, on-line at http://rasputins.ca/events/gils-hootenanny/or at the door.
When: Wed May 01, 2013 7:30 pm – 10:30 pm
Where: Glebe Community Centre 175 Third Ave., Ottawa (Google map…)
Tickets $10. Buy online here…
Songs of Protest, Songs of Hope
A May Day Sing-Along Event
Featuring…
Maria Dunn – Edmonton-based musical storyteller
Three Little Birds – Three gifted young women singing their minds
Mighty Popo (Jacques Murigande) – Musical grooves from around the world
Kristine St-Pierre – Une chansonnière au coeur voyageur
Terry Tufts – Exceptional guitarist, writer, singer and humanitarian
Shout Sister – Powerful, joyful women's choir led by Jody Benjamin
Hosted by Chris White (CKCU FM) and Cathy Remus (CUPE)
Gil's Hootenanny is a community sing-along event that takes place each year on May 1st, May Day, the international workers' holiday. Musicians from a range of backgrounds take turns leading the audience to sing songs of protest and songs of hope.
Gil's Hootenanny thanks the Spirit of Rasputin's Arts Society, a volunteer-run not-for-profit organization that provides a home for Ottawa's folk music community. Activities include weekly folk jams and "open mic" evenings, concerts featuring local and touring musicians, folk music webcasts, talent development workshops, and themed music events such as Song-Along, Chrysalis, Rasputin's Beard and Gil's Hootenanny. For more information, see www.rasputins.ca.
For information and interviews with organizers and musicians, please contact:
Chris White cdwhite@sympatico.ca 613-327-9621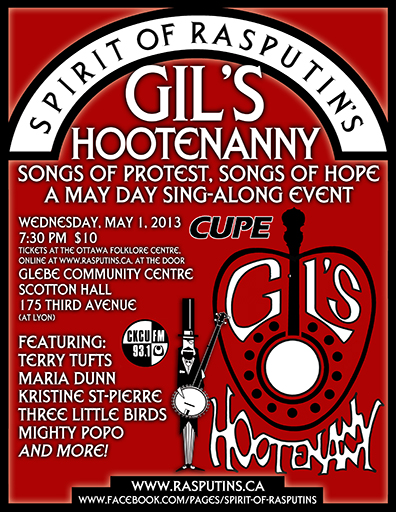 Sponsored by:

CUPE, Canadian Union of Public Employees

PSAC, Public Service Alliance of Canada
Maria Dunn is a Juno-nominated, Edmonton-based singer-songwriter who tells the stories of working people in song. A true preserver of the spirit of folk music, Maria is often compared to Woody Guthrie for her keen social awareness and her unvarnished songs about the lives of working men and women. Maria has released five CDs: "Piece By Piece" (2012), "The Peddler" (2009), "We Were Good People" (2004), "For A Song" (2002) and "From Where I Stand" (1998). Website: www.mariadunn.com
Three Little Birds (Erin Adair, Amelia Leclair and Angela Schleihauf) were recognized with a 2012 Canadian Folk Music Award nomination as one of Canada's hottest up-and-coming acts. The group is a fusion of three distinct young women who candidly sing their minds on social and political issues. Drawing on a variety of musical influences, their songs combine everything from Balkan-styled harmonies with reggae beats to country-flavoured melodies with Tin Pan-era arrangements. Website: www.threelittlebirdstheband.com
Mighty Popo (Jacques Murigande) grew up in Burundi hearing contemporary and traditional musicians from East and Central Africa on the street, in clubs and in people's homes, while radio and recordings played music from the whole African continent and beyond. Since moving to Canada, Popo has performed and recorded many types of music, including blues, reggae, R&B and many African styles. He won a Juno Award in 2004 as a member of the African Guitar Summit. Popo uses the power of music and dance to engage youth and animate communities. Website: www.borealisrecords.com/artists/mighty-popo
Kristine St-Pierre is a "chansonnière with a travelling heart". Her bilingual 2012 album "Call Me Crazy" moves smoothly from English to French through a range of musical styles. A natural singer with clear, strong voice, Kristine has a repertoire that includes delicate finger-picked melodies and rollicking toe-tapping songs. Auteure-compositrice à la voix claire et puissante, Kristine navigue sans heurt entre chansons aux mélodies folk délicates et celles mariant le blues et le country. Website: www.kristinestpierre.com
Terry Tufts is a superb guitarist, songwriter and singer who has toured extensively and has six albums to his credit. He has also worked as an accompanist for a wide range of artists, including Tom Paxton, David Francey, Colleen Peterson, Laura Smith, Wayne Rostad, Susan Aglukark and George Fox. The only two-time winner of the Ontario Council of Folk Festival's "Songs from the Heart" competition, Terry is widely admired for his musical virtuosity and his commitment to social justice. Website: www.terrytufts.com
Shout Sister provides a place for inexperienced singers to sing with has no auditions and no sheet music. The focus is on relaxing and having fun while singing a wide range of popular music. Developed by award-winning blues and jazz singer Georgette Fry, the approach has proved very popular. There are currently 15 Shout Sister choirs in Ontario, including two in Ottawa led by Jody Benjamin of Ball & Chain fame. You are welcome to attend a practice at any time with no obligation, and new members are always welcome. For choir times and repertoire, see www.shoutsisterchoir.ca