Creating the Feeling of Togetherness
A beloved element of Gil's Hootenanny is the entrance march. The performers promenade into the hall singing, playing and encouraging the audience to join in the music. For the Hootenanny Band, leading the entrance march is a natural extension of their identity. Equity, social activism and social justice are central to their song writing and performance style, and they are all singer-songwriters, multi-instrumentalists and vocalists who captivate and inspire audiences with their energy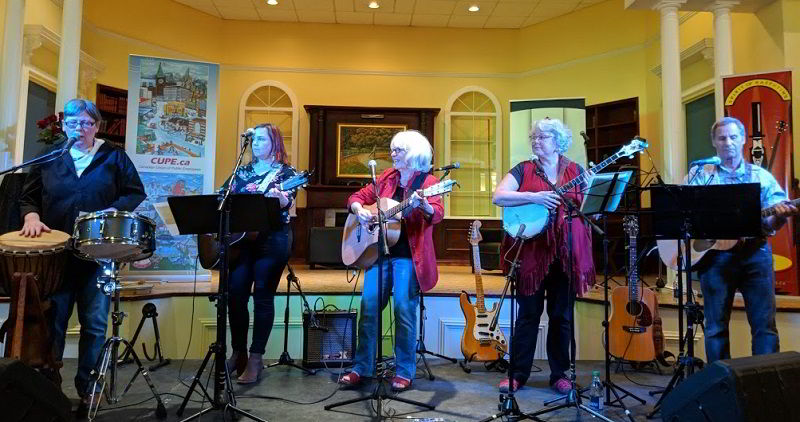 Three members of the Hootenanny Band are musicians from the Elizabeth Riley Band:
Jen Gilbert, acoustic guitar, vocals: Jen grew up in the Ottawa Valley in a music-loving family. While Jen's original music is heavily influenced by the chord progressions and traditions of old-time country music, she loves and plays all styles of music. Outside of her music-life as a member of the Elizabeth Riley Band, Jen is a mom, an educator, and a songwriter.
Patricia Reynolds, electric guitar, vocals: Patricia has been playing and singing since her childhood on Manitoulin Island. Her musical influences range from classic country and bluegrass to rockabilly to traditional and contemporary folk music. She enjoys playing and jamming – with Elizabeth Riley Band, Local Colour, Just Voices choir, and musical friends.
Carmel Whittle, stand up snare, percussion, harmonica, guitar, vocals: Carmel is an Irish and Mik'maq visual artist, musician, song writer & activist who hails from Newfoundland. Currently a filmaker, community outreach and Indigenous Liaison at Gallery 101, she is also a community organizer and co-ordinator for the Indigenous Artists' Coalition 'No Borders Art Festival'. She loves to experiment with sound and create instruments from found objects to create songs of loss tragedy and love.
Jen, Patricia and Carmel will be joined by musical friends Debbie Rubin and Mark Evenchick for the 2019 Hootenanny Band.
Debbie Rubin is a vocalist and banjo player who has been a key Gil's Hootenanny organizer for many years. She is part of the group Local Colour and also the Ottawa Simcha Band, Sing n'jam and Keep on Singing. A retired teacher from Algonquin College, Debbie is also a visual artist.
Mark Evenchick was the winner of the 2016 Hootenanny songwriting contest. His love of music started when he was 13 and learned three chords on his sister's guitar. Those few chords led Mark on a decades-long musical voyage that includes performing, songwriting & recording.
The 2019 Gil's Hootenanny will take place on May 1st at 7:30 pm at the RA centre (Clark Hall), 2451 Riverside Drive. Staffed by UNIFOR members, the RA Centre is accessible, has loads of parking and is well serviced by OC Transpo. Tickets are available online and can be purchased (cash only) at Octopus Books, 16 Third Avenue. Tickets are $10; kids free.