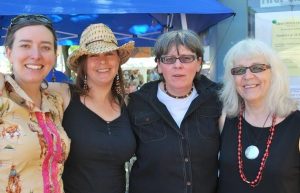 Versatility, originality and activism are the hallmarks of this year's Hootenanny Band. All four members are singer-songwriters, multi-instrumentalists and vocalists from the Elizabeth Riley Band who bring a raw, contagious energy to their music that captivates and inspires audiences:
Jen Gilbert, acoustic guitar, vocals: Jen grew up in the Ottawa Valley in a music-loving family. While Jen's original music is heavily influenced by the chord progressions and traditions of old-time country music, she loves and plays all styles of music. Outside of her music-life as a member of the Elizabeth Riley Band, Jen is a mom, an educator, and a PhD student at McGill.
Patricia Reynolds, electric guitar, vocals: Patricia has been playing and singing since her childhood on Manitoulin Island. Her musical influences range from classic country and bluegrass to Celtic, British Isles and Quebecois traditional music. Recently retired from teaching/program coordination at Carleton University, Patricia enjoys singing and playing guitar with Elizabeth Riley Band and Local Colour, and singing in choirs and local song circles.
Sarah Ryan, banjo, vocals: Sarah is a banjo-wielding member of the Ottawa-based Elizabeth Riley Band, an activist band routed in bluegrass harmonies, folk classics, and alt and traditional country music. She is a trade union activist researching the changing landscape of privatization and childcare with the Canadian Union of Public Employees.
Carmel Whittle, stand up snare, percussion, harmonica, guitar, vocals: Carmel is an Irish and Mik'maq visual artist, musician, song writer & activist who hails from Newfoundland. She is also art facilitator/studio coordinator with H'Art of Ottawa and co-chair of Arts Health Network Ottawa who loves to experiment with sound and create instruments from found objects to create songs of loss tragedy and love.
For Jen, Patricia, Sarah and Carmel, playing in Gil's Hootenanny is a natural extension of their identity, as equity, social activism and social justice, combined with audience participation, are central to their performance style. As Jen says: "Our songs are routed in personal, social and political realities and infused with women's lived experiences."