A capacity audience sang from start to finish at arguably the best organized and best attended 10th Anniversary Gil's Hootenanny held May 1st, 2019 at the RA Centre. As people arrived, the Hootenanny Choir (a.k.a. Just Voices Activist Choir) was singing in the foyer. This set the stage for participation in a wide variety of "songs of protest, songs of hope". While some of the songs were new, most were quite old and had survived many iterations through the "folk process" over decades or even hundreds of years. This review will include some of that musicology. The organizers of Gil's Hootenanny deserve praise for the breadth and depth of song selection at this anniversary event.
In the hall, while they were finding their seats, a video of past Hoots played on the big screen over the stage with concert clips and interviews of past participants. The choir and video were both very welcoming touches.
The real Hootenanny began with a parade of performers marching down both aisles to the stage singing Ain't Gonna Let Nobody Turn Me Around, a civil rights song adapted from a spiritual first recorded by the Dixie Jubilee Singers in 1924. Resurrected by the Reverend Ralph Abernathy during the summer of 1962 when mass arrests and demonstrations erupted for the second time, he taught it one night to a mass meeting at Mount Zion Baptist Church.
The ensemble continued singing Bread and Roses from the floor in front of the stage (no amplification). A political slogan as well as a poem and song, Bread and Roses originated from a speech given by Helen Todd; a line in that speech about "bread for all, and roses too" inspired the poem Bread and Roses by James Oppenheim. The poem, as on this night, is usually sung to the tune written by Mimi Farina in the mid 1970s.
Next came a series of Woody Guthrie songs; songs we knew deep in our marrow. The Hootenanny Band (a.k.a. Elizabeth Riley Band) led Union Maid and Deportee. Then Tamara Levine (daughter of Gil) and Steve Richer, both with wireless mics, strolled the aisles singing Lonesome Valley, an old gospel made famous by the Carter Family and Woody. They joined the band for Woody's You Gotta Go Down and Join the Union.
Steve Richer gave a heart felt tribute to the work and profound influence of Pete Seeger whose 100th birthday would be two days later. Steve lead us through We Shall Overcome inviting the audience to suggest verses. There are dozens to choose from! This is a true "folk process" song. The slave song I'll Be Alright Someday morphed into We Will Overcome, a spiritual published in 1901. In 1942 Louise Shropshire composed the gospel hymn My Jesus Wills influenced by that earlier spiritual and with marked resemblance to the protest anthem to follow. We Will Overcome emerged as a labour song at the strike against the American Tobacco Company in Charleston S.C. in 1945. The tobacco workers then took it to the Highlander Folk School in Tennessee where the director Zilphia Horton began teaching it in workshops. A Highlander teacher, Septima Clark, changed "will" to "shall" transforming this song of hope into a call to action. Zilphia taught it to Pete in New York in 1947 who added a magical rhythm of triplet quarter notes to the moving version we all know.
Thus ended the first half. Many of us could have gone home then filled with song and truly inspired. But there was so much more to come.
Clarissa Fortin and Mark Evenchick opened the second half with Stephen Foster's Hard Time Come Again No More. Published in 1854 and first recorded in 1901, Hard Time has been recorded by over 40 well known artists including Dolly Parton, Kate & Anna McGarrigle, Johnny Cash, Mavis Staples, Bruce Springsteen, and Jennifer Warnes.
Tamara Levine gave a tribute to her late mother Helen who along with her husband Gil is a big part of the inspiration for this event.
Then Maria Dunn, from Edmonton Alberta, and Maria Hawkins, Ottawa's "Blues Lady", took the stage. The Two Marias took turns pulling the audience into a range of original and traditional songs all with sing-along-able qualities. Highlights were Maria Dunn teaching us a Celtic chorus for a Scottish women's work song and Maria Hawkins teaching us sign language to go along with a children's song.
Maria Dunn is a gifted song writer with obvious Celtic influences and a knack for simplicity and directness. "Simple" is one of the hardest things to pull off in song writing. She treated us to a series of "stories in song" where each had a chorus we could easily learn. For instance the lyrical Take It Easy On Me from her second album repeats that one simple title line four times. Harmony flowed from the audience.
Accomplished on both guitar and accordion she was a thoroughly engaging songstress and song leader. When the Grandmothers Meet sure tested our Gaelic.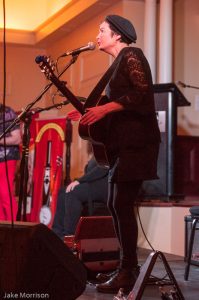 Maria Hawkins brought her legendary energy, warmth and inspirational voice to the stage…and off the stage too with a wireless mic. Her songs ranged from gospel to children's songs. We were "pulled in" to the magic and sang along. And now I know more ASL signs courtesy of her children's version of Follow the Drinkin' Gourd. And I had no idea the Beatles' Let It Be could be so funkadelic as a sing-along song. If there was ever a woman who could fill the whole room with song and movement better than Maria Hawkins, I ain't met her yet.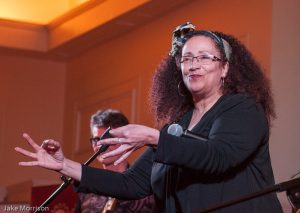 The two song finale, with every performer on stage, started with God Bless Everyone, a song by Maria Dunn with a very singable chorus inspired by Tiny Tim's grace in Dicken's A Christmas Carol.
God Bless us everyone
With the riches of the soul
And may hopelessness ne'er be the demon
Darkening our door
Maria Hawkins completed the evening with Wade in the Water, the traditional spiritual which she adapted to modern times (thank you folk process) by changing the last line:
Wade in the water, wade in the water children
Wade in the water, there's truth and justice in the water.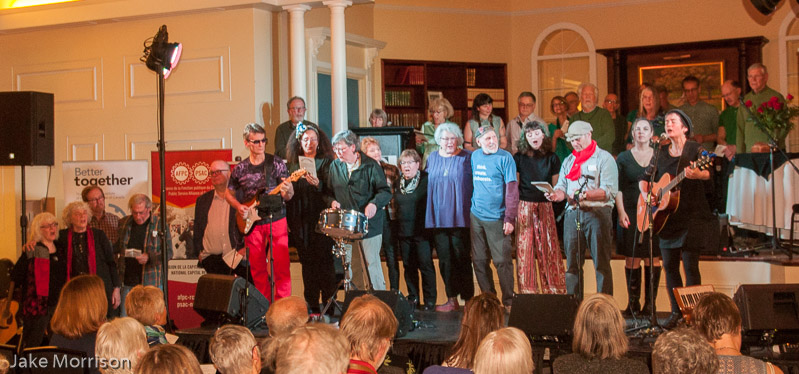 Everyone I talked to felt this was an extraordinary evening of song, participation, hope and protest. I could not agree more.
For more pictures, see Jake Morrison's photo series on his website.